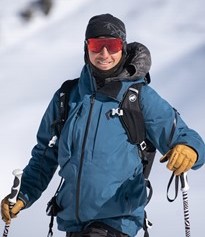 David Mathes is a medic, former Air Force Pararescueman and adrenaline addict who brings his camera with him on all his travels. He is known by his peers for his medical presence and expertise in the mountains. His photographs bring you a front row seat to the exposure, beauty and awe of the world most do not ever see.
David's career in photographer began with his desired to capture the magnificence of what he was seeing and experiencing on his adventures. He strives to provide amazing photographs of others during priceless moments. His love for adventure and the mountains continues to lead him to higher and more remote peaks on his own, with friends and with clients.
His background in medicine, rescue and mountain experience, makes him a first choice companion for adrenaline filled adventures in the outdoors. And the best part is, he will capture the memories for a lifetime.
For more information on David's work, visit his website: www.davidmathes.com