Welcome, New Residents! Bellevue is your new home, so let's get you comfortable with the area. As a service to you, we compiled a whole range of information about places and services, and this is not all. As Tik Tok has recently become one of the world's most advanced and utilized mobile apps during the COVID 19 pandemic and lockdown, we chose to showcase Bellevue through this app as a convenient and effective way to discover the opportunities surrounding you. 
Most surprising places in Bellevue
The stress of transition to college can result
in anxiety. It is important to take breaks from this hectic life and enjoy a few hours of rest. Bellevue might seem small, however, you'll be surprised by the number of activities you can do around here. Our campus is surrounded by surprising places, incredible views, and a few "secrets" spots. Here we have a few suggestions for every one of your tastes.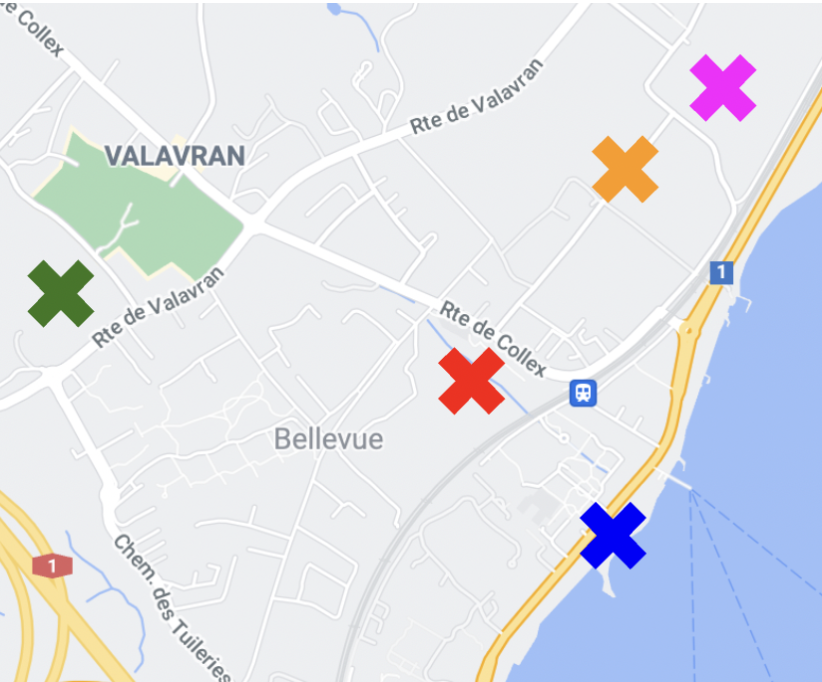 Dog Park
For all the dog lovers out there, this is THE place for you. Whether you pull out your AirPods and blast your favorite songs, or simply enjoy listening to the sounds of nature, you can take a lovely walk through the dog park along a cute trail taking you to the hill's top, where you will be amazed by the splendid view of the lake and the mountains across it. On the south side of the
park, a gate gives you access to the Bains de Saugy. The path, passing through a tunnel down the railway, takes you directly to the lake: on summer days you can splash in the water directly from the pier! Dogs' access to the lake is separated from people's one.
A little further along the forest, some large wooden benches are perfect to host a picnic: such a lovely place for a gathering!
The Bioparc Genève
Bioparc Genève, also known as Parc Challandes, is a sort of small zoo created in Bellevue in 1991 as a rescue place for lost, abandoned or wounded animals. Some of them came from official zoos and circuses who had to get rid of them. The Bioparc is a very special place run by wholehearted people and allows you to wander around, discover, learn, and recharge your batteries. Anyone can volunteer to help for one day or more.
It is approximately a 12-minute walk from Webster Geneva to the park. Whilst walking there, we encountered nice neighbourhoods and many places that could come in useful one day including a beautiful local florist. Once we reached our destination we were warmly welcomed by some of the workers. The tour of the park did not take longer than 30 minutes and we were able to see more than 250 animals including kangaroos, owls, peacocks and many more. At the end of the tour, we saw a gift shop, where whatever is purchased, the money will go towards these animals and taking better care of their living space. This small zoo is something we definitely recommend to everyone!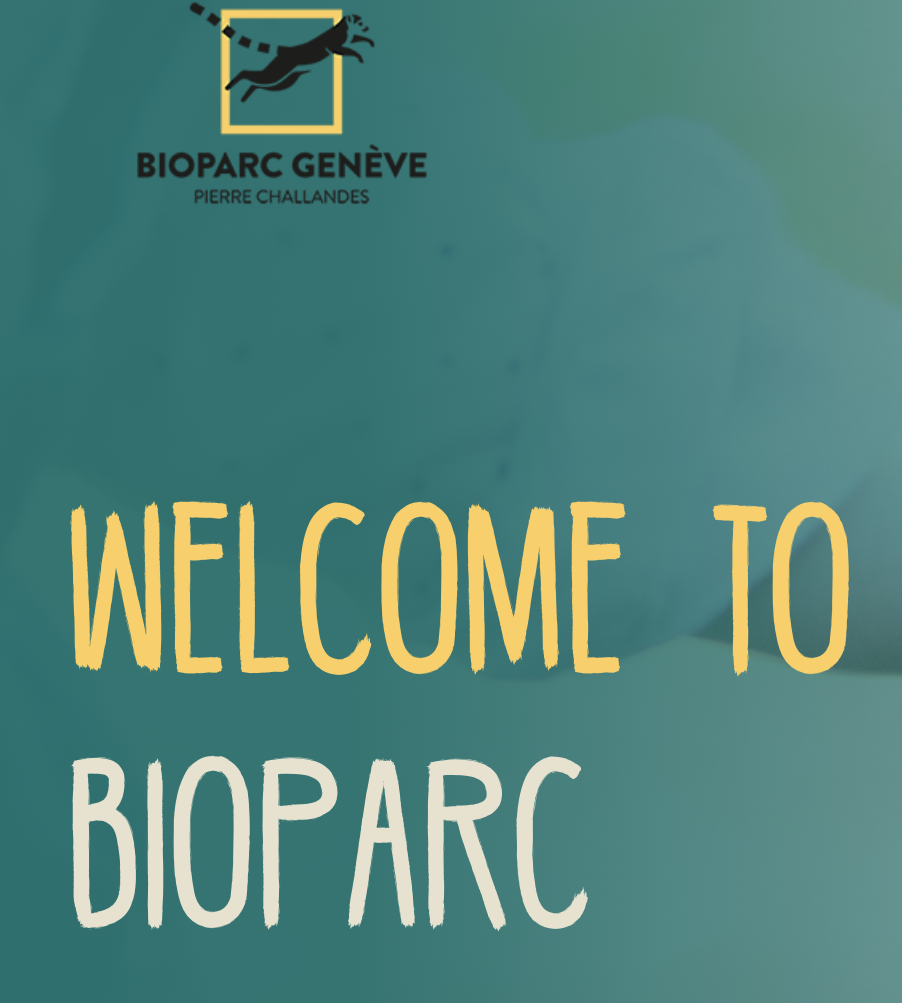 Best views in Bellevue
Belle Vue in French means "pretty view"! The name of the town does not do justice to the views it has to offer from literally every angle. Whether you are looking outside your room, eating at one of the restaurants, or just walking around, there is a constant view of the mountains, the lake, and the greenery. Though most of this information applies to the summer and fall times of the year, the town is just beautiful in winter, with the Mont Blanc and the Alps covered in the whitest snow.
Lake View
"Let's go to the lake", has been the most used phrase during orientation day and every
week since then. Naturally, you'll be curious to visit it, as it's one of the first things that catch our eyes in Switzerland. Just a few steps from the campus, you can enjoy a fantastic view of the Mont Blanc and the Alps surrounding the lovely lake. You will not be disappointed by other people's appreciation for it. Welcomed by the inhabitants of Bellevue and surrounded by a peaceful and beautiful scenario, you will be definitely convinced to visit the lake again.
The lake view not only is justified by its popularity, as it gives you a very calm and relaxing feeling, but it is also a perfect spot to spend time with friends after classes or for some time alone. This gem is additionally surrounded by 2 restaurants and a small gas station shop for your quick cravings. If you are more of a scenic person, during sunrise or sunset, the lake has the most beautiful glow with a few benches, a large wooden sitting area, and rock borders with flowers, trees, and the greenest grass.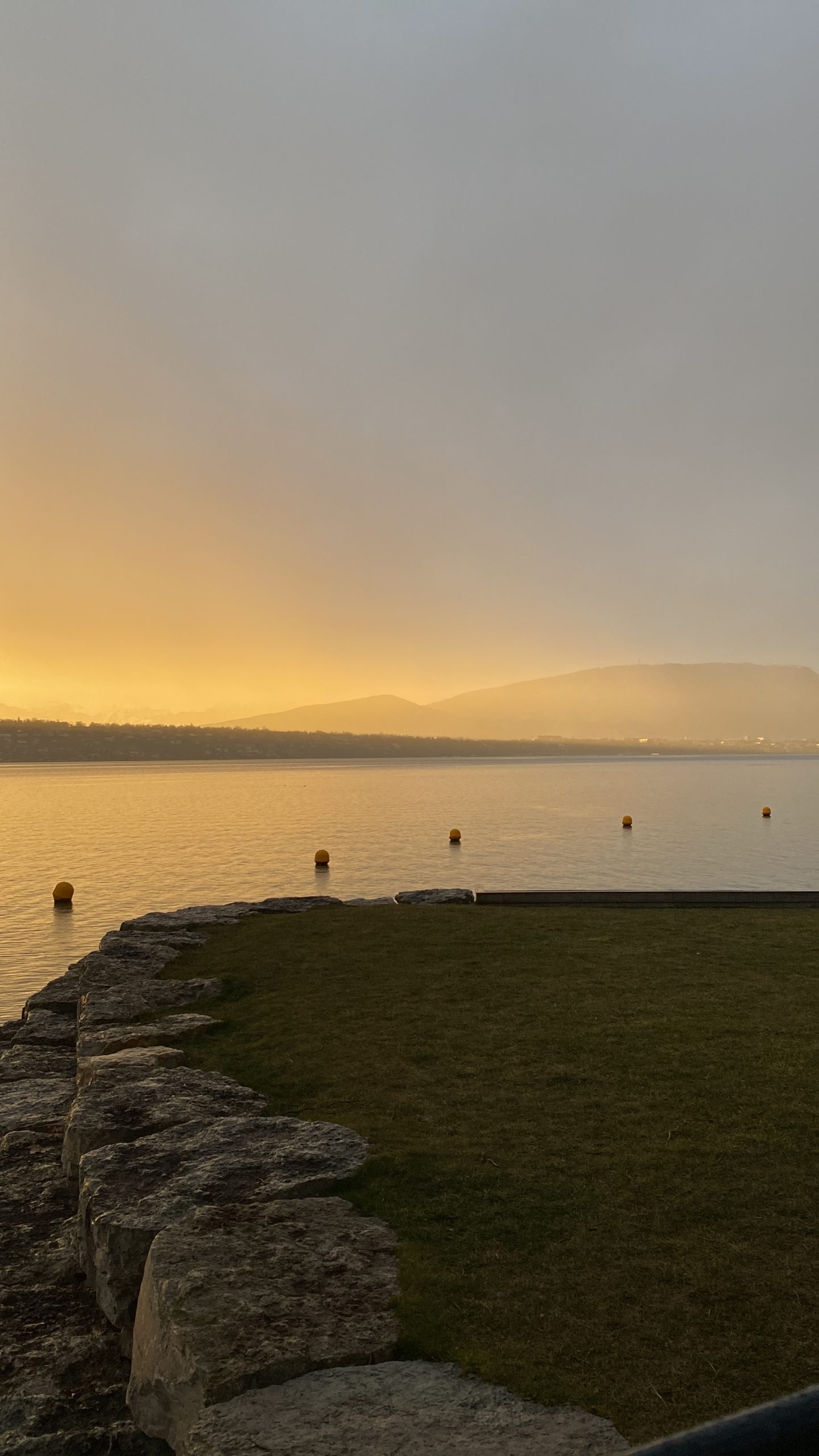 Vineyards

When we think of Geneva, we immediately think of the jet d'eau. We can easily forget that it's also about the countryside, particularly its vineyards, which fun-fact, makes this canton the third largest wine country. On our way back to Webster University from the dog park, we discovered a new path to our destination. We walked through this street with many benches next too some beautiful vineyards. The view from there is breathtaking. Its landscapes are reminiscent of both the vineyards of southern France and those of beautiful Tuscany. This street is part of many Bellevue citizens' daily walk. There were many old couples, families with small children and teenagers enjoying a picnic sitting on the benches.
Location: Chemin Des Rousses
Webster views

No need to go too far! We've been tourists of Geneva for the past month and a half and we've noticed that some of the best views could be seen right where we are, at Webster University. This can either be from the benches outside the LLC building, any window on campus or even walking around campus. We are lucky to live in a place that looks beautiful when hot or cold, sunny or rainy, and even windy.
Our favourite spots to socialize
Socialising is a big part of the whole University experience, and a very fun one. If you pay attention to what is around you, you may notice some places where a lot of students hang out with each other, excluding classes, these are the benches.
The Bench Next to LLC
This spot at the parking lot is known for being one of the benches where most students have small talks with each other, but also because it is one of the few places where you can smoke on campus. Some of our first conversations with people on campus have taken place on that bench, and it will always be a spot to meet new people. Another pls is that, on your right you have a beautiful forest, which you are missing out on if you have not walked through it yet!
The bench near the cafeteria

It is mostly crowded when the students or staff go and eat. The cafeteria has 2 benches, one surrounded by stunning flowers, and the other which is part of a large table. Most of the time during lunch, the bench is taken as it is in a very convenient spot where everything is right next to you; classes, cafeteria, library, and the elevators on both sides.
The benches in the woods
They are right next to the campus, and as soon as you enter the woods trail, you are sure to see them. Here most students hang around in late afternoon or evenings, however, this is not known as a place to get to know people but more of a place to go with the friends you made. This bench could also be used as an area to relax, and have some alone time and connect with nature…
If you are looking to make friends at Webster, you should consider going to these spots for a little during the day, it will spark small conversations and maybe you'll have yourself a new friend, multiple friends or just a really interesting conversation.
Hopefully, this information will help you feel at home, not only by residing in this beautiful area but by joining our active community and taking part in the many events that make this place a better place to live and study!
By: Warona Mouyeme, Greta Sigona, and Sara Kullolli